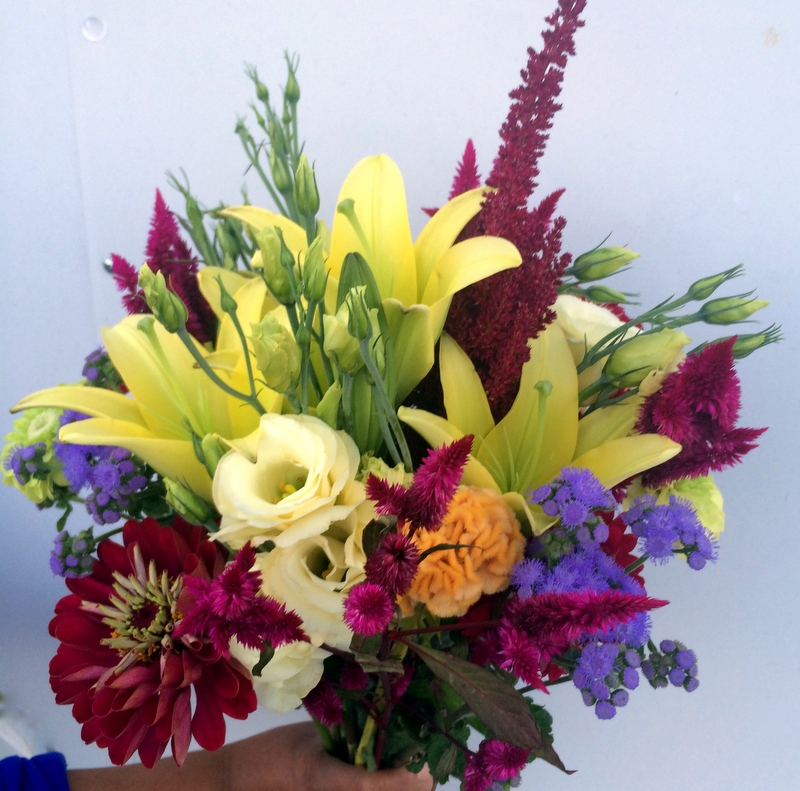 Cabin Hill Farm is excited to offer bouquet subscriptions in 2017!   Treat yourself, a friend or loved one to a bit of cheer that lasts all season!
For 20 weeks – from June through October 2017 – subscribers will receive a bouquet of our fresh,  colorful, locally-grown flowers!   You can choose between weekly and biweekly deliveries.  Each bouquet includes 16-20 stems of seasonal specialty flowers, herbs and foliage carefully arranged for a beautiful presentation.  Our bouquets are very reasonably priced: ONLY $15 EACH!
PICK-UP: Have you ever arrived at our farm stand or farmers market tent to find we're sold out of our beautiful bouquets?  With a bouquet subscription, you will enjoy our beauties all season….guaranteed!   You can pick up your bouquets on Saturdays at the farm or on Sundays at the Mosaic Farmers Market.  They'll be there waiting for you!  Easy peasy!
DELIVERY: Do you live, work or worship in a community with other flower lovers?  If there are 10+ subscribers in one location (in Shenandoah Valley or Northern Virginia), we will deliver your bouquets to your home, office or church every week with NO DELIVERY FEE!  Please contact us if you are interested in this convenient arrangement and help us spread the word!
Need a gift for that special someone who has everything? Flower bouquet subscriptions make great gifts for your friends and loved ones!
100% SATISFACTION GUARANTEE:  If, for any reason, you are not completely satisfied with our flowers or our service, contact us and we will issue a hassle-free refund.
For more information about bouquet subscriptions, please call Jeanette at 540-335-3488 or email jeanette@cabinhillfarm.com