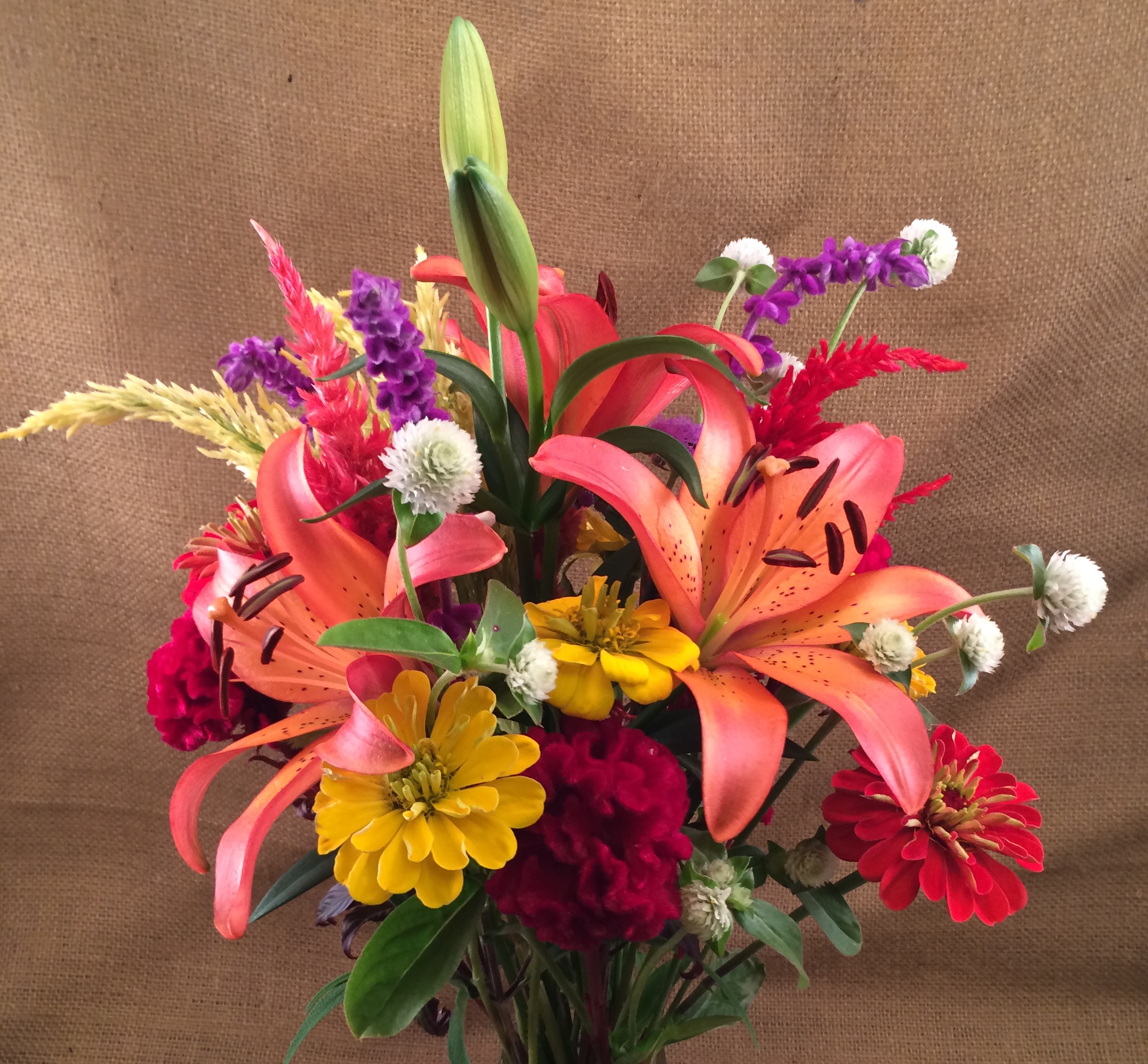 Would you like to enjoy our beautiful, long-lasting bouquets all season?  We are excited to offer bouquet subscriptions for 2018.  From May through September 2018, subscribers will receive a bouquet of our fresh, seasonal, locally-grown flowers every other week.  That's a total of 10 bouquets over the season!   Each bouquet will be a unique arrangement of 16-20 stems of freshly harvested seasonal specialty flowers, herbs and foliage. With our bouquet subscription, you will have a bit of cheer all summer long!
Where do I pick up the bouquets?  You can choose between several convenient locations in Northern Virginia and the Shenandoah Valley.  Click HERE for a map of our pick-up sites.  Just click on each map pin for the address, website and pick-up hours for each site.
When do I get the bouquets?  If you select the Mosaic Farmers Market as your pick-up site, you can pick up your bouquets from 9:30 AM to 2:30 PM on Sundays.  If you select Cabin Hill Farm, Shenandoah Joe, Peet's Coffee, Cupcake Heaven or Macaron Tart as your pick-up site, you can pick up your bouquets after 2 PM on Thursdays or during their operating hours on Fridays.  For each site, you can choose between 2 sets of weeks listed below or click HERE for a calendar.
Cabin Hill Farm, Shenandoah Joe, Peet's Coffee, Cupcake Heaven and Macaron Tart (Thursdays after 2:00 PM):
Plan A: May 17, May 31, Jun 14, Jun 28, Jul 12, Jul 26, Aug 9, Aug 23, Sep 6, Sep 20
Plan B: May 24, Jun 7, Jun 21, Jul 5, Jul 19, Aug 2, Aug 16, Aug 30, Sep 13, Sep 27
Mosaic Farmers Market (Sundays 9:30 AM – 2:30 PM):
Plan C: May 20, Jun 3, Jun 17, Jul 1, Jul 15, Jul 29, Aug 12, Aug 26, Sep 9, Sep 23
Plan D: May 27, Jun 10, Jun 24, Jul 8, Jul 22, Aug 5, Aug 19, Sep 2, Sep 16, Sep 30
Will the bouquets be the same each time?  NO!  We grow over 100 varieties of flowers blooming at different times over the season.  You will get a different beautiful combination every two weeks!
Will the bouquet be in a vase?  No, it will be in a clear plastic sleeve with a water reservoir at the bottom.  That way, the flowers will stay hydrated and you don't have to worry about spilling a vase of water in your car on your way home.
Can I give a subscription as a gift?   Absolutely!  Flower bouquet subscriptions make great gifts for your friends and loved ones!  When you subscribe, you can list the recipient as yourself or someone else.
What if I go on vacation during the subscription season?  No problem!  Just let us know when you're going to be gone and you can either have a friend pick up your bouquet or we can give you two bouquets the following pick-up day.
OK, how much $$$?  We offer two ordering and payment options:
pay for the whole season:

 price is only $15 per bouquet……that's $150 for the whole season!
 you must sign up BY APRIL 1, 2018

pay in installments:

price is $18 per bouquet ($180 for the whole season)
we will automatically charge your credit or debit card every 2 weeks
you can sign up at any point in the season
What if I want to cancel my subscription?  Again, no problem!  We offer a 100% SATISFACTION GUARANTEE.   If, for whatever reason, you are not completely satisfied with our flowers or our service, contact us for an immediate prorated refund (if you have prepaid for the whole season) or stop payment (if you are paying in installments) with no penalty and no hassle.
Can I get an extra bouquet if I get a friend to sign up?  Well, as a matter of fact, YES!  We offer a complimentary bouquet for every subscriber you refer to our subscription program.  Just tell your friend to credit you on his/her order form.
TO ORDER A SUBSCRIPTION FOR YOURSELF OR SOMEONE ELSE, click HERE.
If you have any other questions, just shoot us an email: jeanette@cabinhillfarm.com.