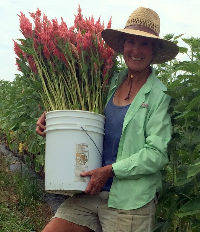 Jeanette Smith purchased the 100-acre parcel known as Cabin Hill Farm in 2004.  She set out with a dream of developing a farming business that would be beautiful, casual and family-friendly.  In 2015, she dabbled in growing cut flowers for a mobile farm market and the Cabin Hill Farm flower stand.  Together with hardworking team members Blanca Pacheco and Bianca Hernandez, Jeanette greatly increased flower production and sales in 2016.  At the end of a long, hot day, Jeanette enjoys sitting on the deck with a glass of wine admiring the beauty that God has graced upon Cabin Hill Farm.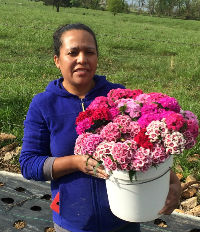 Blanca Pacheco joined Cabin Hill Farm in April 2016.  She is the most conscientious and hardest-working person on the planet.  Blanca does most of the seeding, transplanting and harvesting at Cabin Hill Farm, but she readily admits that her favorite thing to do is make bouquets.  And she makes spectacular bouquets.  When she's not at the farm, Blanca spends time with her son Pablo and daughter Bianca.  Blanca is also an incredible cook.  Her tamales are to die for.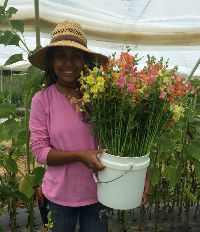 Bianca Hernandez is Blanca's daughter.  A senior at Central High School in Woodstock, VA, Bianca is strong both academically and athletically. She plays travel soccer in the fall and spring.  During the summer, Bianca is a valuable asset at Cabin Hill, helping with harvest and bouquet-making.  Bianca plans to attend Lord Fairfax Community College in 2017, where she intends to begin her pursuit of a degree in the medical field.  Like her mother, Bianca has a very strong work ethic and values her family.